9 min read
ERP for the Chemical Manufacturing Industry: Choosing the Right Platform for Today's Challenges

Eric Smith : Jan 22, 2022 11:19:21 AM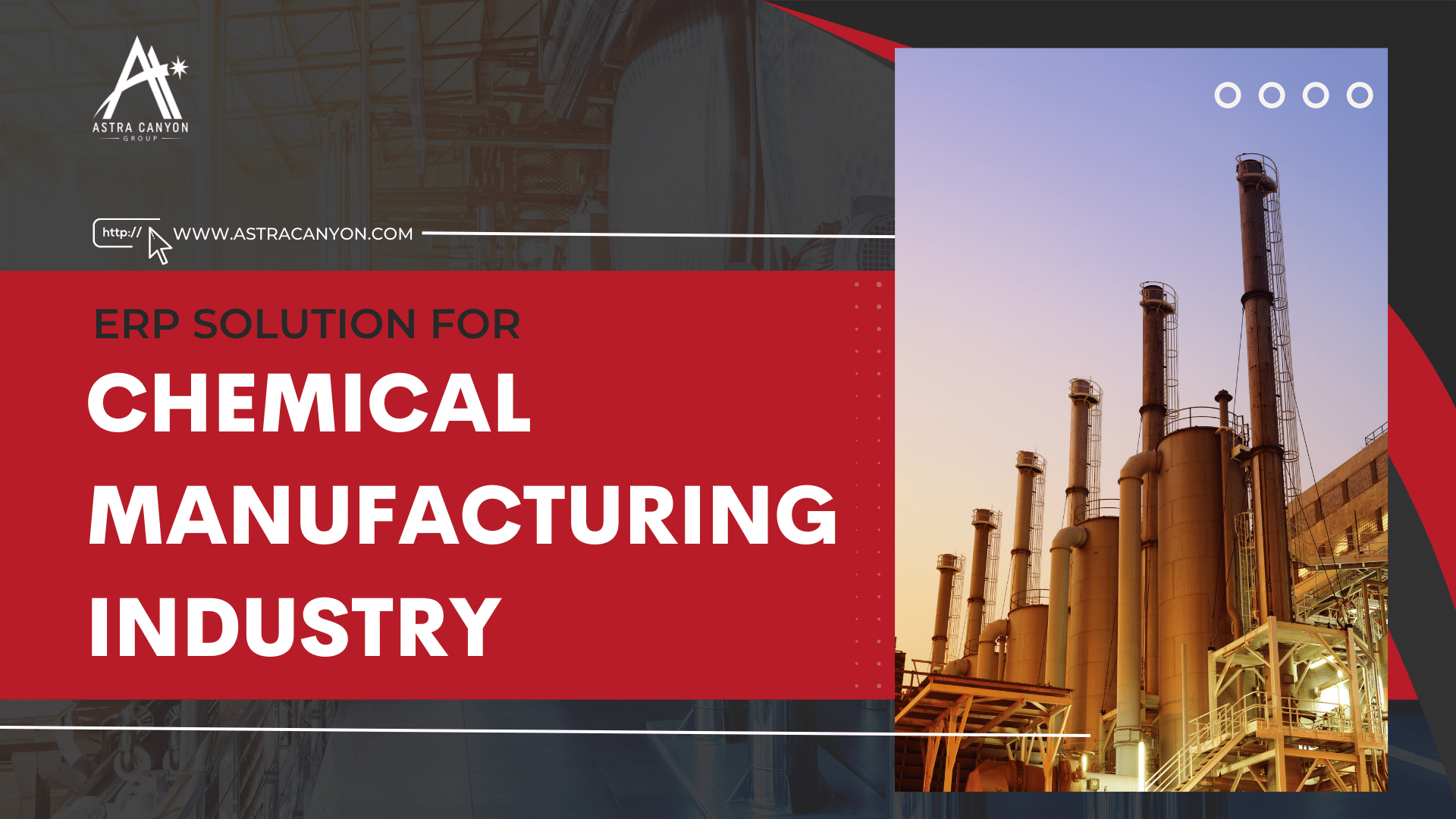 Are you ready to revolutionize your chemical manufacturing business? Imagine a world where your paint and coatings company can seamlessly integrate with an acquired competitor, or where your ink and dyes manufacturing operation thrives with an upgraded, cutting-edge ERP system. It's time to unlock the full potential of your chemical manufacturing enterprise with a next-generation ERP solution that streamlines operations, banishes bottlenecks, and unifies your manufacturing, sales, customer service, and management teams on a single, intuitive platform.
The ideal ERP for chemical manufacturing won't just help you run your business - it will empower you to slash costs and catapult efficiency to new heights, all while harnessing the incredible power of modern technology. Embrace the future of your industry and discover unparalleled profitability with an ERP solution that's tailor-made for the unique demands of chemical manufacturing.
Consider a Purpose Built ERP For Chemical Manufacturing
Technology can ease the ever-growing complexity of the chemical manufacturing industry and its regulations and can help support sustainable products, practices and growth. Since the chemical industry has unique business challenges, you'll want to look for an ERP solution that comes fully baked with industry-leading best practices right into the application.
These needs may include:
Integration of plant and management systems
Improving process efficiency
Having greater, real-time insight into production yields and supply bottlenecks
Eliminating siloed data
A need for multi-level inventory monitoring and tracking
Wanting to improve quality control
Simplifying the process of handling compliance regulations
Wanting better hazard analysis to prevent injury and downtime
Gaining clearer insight into variations in commodity pricing

Improving workflow management with multiple levels of work order reviews and approvals secured by electronic signatures to speed approvals and avoid paperwork bottlenecks

Wanting better insight and traceability of the workflow cycle, with access to detailed, real-time data
No matter what the pain point is that your company is facing, your goal will be to find an agile, modern chemical manufacturing ERP that will not only address your specific issues but will help optimize all facets of your organization. From accounting to invoicing to sales reports to regulatory compliance to plant insights, a chemical manufacturing ERP solution can revolutionize business processes and connect teams on one sophisticated platform. You'll want to invest in an ERP that allows for future growth as your company grows and can scale as market conditions change.
Here you'll face another challenge: there are an increasing number of ERP platforms that can – or will claim to – help eliminate many chemical manufacturing pitfalls. You might find yourself confused by the competing claims that each is the best ERP for the chemical manufacturing industry.
An ideal ERP solution should empower its users and improve a company's business processes. It should provide a competitive advantage by providing prompt, real-time insights into ever-changing customer demands and supplier trends. It should contain a customizable end-user interface that delights users while providing them with the info they need in real-time. Regardless of the ERP you choose it should give you greater control and visibility into all areas/departments of the business into a single view helping drive better business decisions and positioning your organization for future success.
Must-Have Features Within a Chemical Manufacturing ERP Solution:
Compliance Management, including automated production of regulatory documents, ensuring compliance with OSHA, DOT, EPA and ISO and with GHS labeling requirements. Also domestic and regulatory compliance with international regulations like TSCA, CSIA and REACH
Material Requirement Planning (MRP) support, including formula management and the ability to separate the cost of product ingredients from the cost of packaging materials
Material Production Scheduling (MPS) support including production scheduling and shift scheduling support
Quality Control support, including customizable COA Certificate of Analysis reports
Immediate batch traceability and status
Real-time insight and analysis of inventory and warehouse management, including shelf life support and expiration date control
Worker safety support and hazard analysis
Shipping approval with automated documentation/certification required for a country or customer


Integrate Operations With ERP and Make Smarter Decisions
Modern ERP software applications for the chemical Industry help company leaders spot market trends, evaluate the performance of workers and suppliers, and spotlight problems and bottlenecks before they become major issues. With detailed insight into all phases of operation, executives may adopt new management practices to improve efficiency and profitability.
With its timely, data-rich insights into what is being produced and sold, ERP applications help managers determine accurate forecasts based on in-house data and market factors such as account supplier delays and customer demand. Insights like these help company leaders align products and production schedules with sales promotions and fluctuations in the market to meet demand and improve customer relations.
Supply chain snags and the rising cost of raw materials needed for manufacturing products are certainly of major concern today. The depth of insight into daily business processes that an ERP provides may help executives rethink product portfolios and pivot as needed for greater earnings and company growth.
Improve Operational Efficiency and Safety
Although plant and warehouse maintenance may be regularly scheduled, any manual procedures can be error-prone. An ideal chemical manufacturing ERP should automate both the plant as well as management workflow processes and procedures. ERP platforms support many phases of operations, resulting in better customer service and satisfaction and improved operational efficiency. Chemical manufacturing software has many industry-leading features such as automated equipment health and maintenance prompts. It can also support the industrial Internet of Things (IoT).
For example, many of today's smart machines send wireless alerts when service is needed or when they are underperforming. Information like this, when integrated into an ERP, allows decision-makers to make scheduling and production changes as needed when equipment maintenance or repairs are necessary. Early warning signals appearing on an ERP interface screen may help manufacturers avoid costly work stoppages due to machine breakdowns. Operational efficiency is improved and there is no danger of the warning signal being overlooked or missed because a worker was absent or manual system checks were overlooked.
Improved operational efficiency and safety are essential for a chemical manufacturing business with a streamlined workforce that wants to position itself for long-term success. Manufacturing processes are sometimes hazardous. While the industry is highly regulated, accidents may occur, threatening the health and safety of employees, damaging the environment, causing production setbacks and creating unwelcome publicity.
A chemical manufacturing-centric ERP has built-in inventory management tools that provide immediate insight into the status of chemicals in storage or in transport to a factory. If an ingredient in storage is near its expiration date, a notification is sent. Chemical manufacturing software provides many automated safeguards that also help protect employees and the environment. Standard Operating Procedures (SOP) are always at your employee's fingertips, including emergency response procedures in the event of a disaster such as a fire or a chemical spill.
What To Look For When Considering Chemical ERP Software
IFS Cloud ERP: A Leading Chemical Manufacturing ERP Solution
IFS develops tightly integrated Enterprise Resource Planning (ERP), Enterprise Asset Management (EAM) and Field Service Management (FSM) solutions for global manufacturing businesses and possesses deep, industry-specific functionality when it comes to ERP software for chemical manufacturers.
IFS ERP for chemical manufacturing offers many industry-specific features that help companies avoid an overreliance on multiple third-party "plug-ins" / extensions that needlessly increase IT expense and software vendor management.
IFS solutions support mobile applications for workers and sales reps on the move enabling you to unite your mobile and desktop workforce and your production and management teams on the IFS platform for a complete, real-time overview of the company.
IFS has shown it's deeply committed to developing a constantly evolving platform that is simple to use and simple to adopt that supports the growth of chemical manufacturers across the globe. IFS solutions are built to be agile and to support the sustainability of businesses that implement its platform. The company puts its focus on its customers' vision and values and this drives the changes it adds to its ever-evolving and ever-improving ERP for the chemicals manufacturing industry
There are four ways IFS helps meet the needs of the chemical industry
The first is by helping manage complex supply chains. The second is compliance management. The third way is managing safety and security hazards. The fourth way is by helping chemical companies with product development.
IFS helps manage the complex supply chains of chemical companies. Chemical companies need supply chain management to ensure that the materials needed for their products are available when they need them. Production must never grind to a halt while a company searches for suppliers, negotiates terms, and waits for delivery. With IFS' centralized system for managing data and processes, there is little chance of this occurring. The system automates many supply chain processes. Supplies can be automatically reordered when a stock falls below a certain level. The system also provides a complete overview of the entire production process. Company managers can resolve any supply issues long before they become major problems.
IFS helps chemical companies meet compliance regulations

. Chemical companies are subject to regulatory compliance requirements related to the production, transport, and storage of chemicals. IFS software can track and manage these requirements. The software can help chemical companies meet regulations by:

Providing a comprehensive and up-to-date regulatory database for managing safety data sheets (SDSs). The software's automated authoring, validation, and distribution functions help ensure SDSs are always compliant with the latest regulations. IFS offers a wide range of regulatory reporting capabilities, allowing companies to track and report on their compliance status with ease. The Regulatory Affairs module helps manage compliance documentation, and the Environmental Health & Safety module helps track and manage hazardous materials. IFS ERP also provides extensive visibility into all aspects of business operations, including production, procurement, and product development. This industry-wide overview helps companies identify potential areas of non-compliance and take corrective action before problems arise. Overall, IFS is an invaluable tool for chemical companies striving to meet complex regulatory requirements.
IFS software helps manage the safety and security of chemical operations.

IFS provides a comprehensive software solution for safety and security management. The software is designed to help companies track and manage all aspects of safety and security, from compliance tracking to incident management.

IFS applications help manage product formulas and provide documentation. Relevant content for GHS classification is provided out of the box. IFS ERP's product classification tools can be used to support GHS classification by assigning products to specific GHS classes. For example, a product could be classified as a Class 3 Flammable Liquid. This would allow users to quickly identify products that need to be handled with care. It would also allow for specific safety procedures to be followed when working with these products. Another way that IFS ERP helps ensure safety in chemical plants is by providing a comprehensive view of all safety-related data. This allows managers to identify potential safety hazards and address them before they become a problem. IFS ERP applications can help detect machine malfunctions by providing data on the performance of individual machines. This data can trigger an alert when a machine is not functioning properly.

Additionally, IFS ERP can help track safety incidents and trends so that plants can continually improve their safety procedures. Since its inception, IFS has been supporting customers in the chemical industry with innovative solutions. Its applications are continuously upgraded to keep current with market changes and stringent safety and security regulations.
IFS has a comprehensive suite of applications that cover product development. IFS ERP provides a comprehensive suite of services that helps chemical companies maximize the value of their products. These services include product lifecycle management, quality management, supply chain management, and regulatory compliance. IFS has the power to automate many steps involved in Product lifecycle management (PLM). The system can be used to develop product concepts. It can also manage the product development process, from design to release. It can also track the progress of a product through its lifecycle and help manage product specs, pricing, and inventory levels. IFS ERP can also track sales history and existing product demand. When combined with built-in analytics, these features can create a product forecast for new products. By automating many steps in the product development process, IFS helps companies bring new products to market quickly and efficiently. With IFS, chemical companies can develop products faster, improve quality, and reduce costs.
Here's why you should consider IFS Cloud for your next ERP...
IFS Cloud ERP enables manufacturing companies to integrate and embed intelligence in manufacturing processes within a cloud-enabled solution. It provides an optimal coordination of planning and execution processes, covering all aspects of the manufacturing cycle from forecast and order to dispatch
Using visual, drag 'n' drop functionality to plan and schedule production and batch balancing, IFS Applications ensure that your operations are as efficient as possible. Integrated quality management allows full in-process quality checks as well as audits with formulations and chemical substance information providing tight material control
IFS offers deep industry knowledge and works closely with market-leading customers to continually perfect its chemical manufacturing solution
IFS Cloud ERP provides a user-friendly digital platform for uninterrupted, real-time transactions and analytics. This allows manufacturing companies to support business processes, to transform existing supply chains into digital supply chains, or create new business models where an outcome is delivered instead of just products.
What makes IFS unique from other ERP vendors?
IFS provides complete end-to-end lifecycle support, from NPD to sales to production to quality and delivery
Total Quality Management (TQM)

Integrated quality management, including internal practices and in-process controls, positive release, and traceability
Audits and electronic signatures

Batch balancing, matching bulk to product variant demand
Demand Driven MRP (DDMRP)

Revolutionary planning method that is designed to meet the needs of modern-day manufacturers

Operational Intelligence

Automatic insight to action via IFS Lobbies
Should you join the growing list of IFS chemical manufacturing customers?
IFS works with customers, bringing them into its R&D cycle, through industry advisory councils to plan for future business models, trends, and opportunities that require new capabilities and technologies in the IFS manufacturing solution.
IFS offers a tremendous ROI with its software's average length of service being twice the industry average (9.5 years).
Here's a sample of Chemical Manufacturing Companies running IFS ERP...
Jotun - one of the world's largest manufacturers of paints and coatings
Whitford - manufacturer of the largest, most complete line of low-friction coatings, non-stick coatings, and decorative housewares
Teknos - a global producer of paints and coatings for the manufacturing industry, building professionals and consumers
drom Fragrances - one of the top ten leading perfume manufacturers in the world
Hexpol - global developer and manufacturer of quality polymer compounds
Oriflame - manufacturer of beauty, cosmetic and personal care products
Bial - a manufacturer of pharmaceuticals whose products are sold in 58+ countries in 4 continents: Europe, America, Africa and Asia.
Want to hear directly from the customers?
IFS has consistently earned high scores as a midmarket ERP vendor on Gartner peer insights.
How we help...
It's true that IFS develops feature-rich ERP software purpose-built for chemical manufacturers however the ERP application is only as good as the consulting organization configuring and customizing the software to meet your unique requirements.
That's where we come in, IFS ERP combined with Astra Canyon's deep industry expertise provides a powerful duo for chemical manufacturers looking to gain a competitive edge in their sector.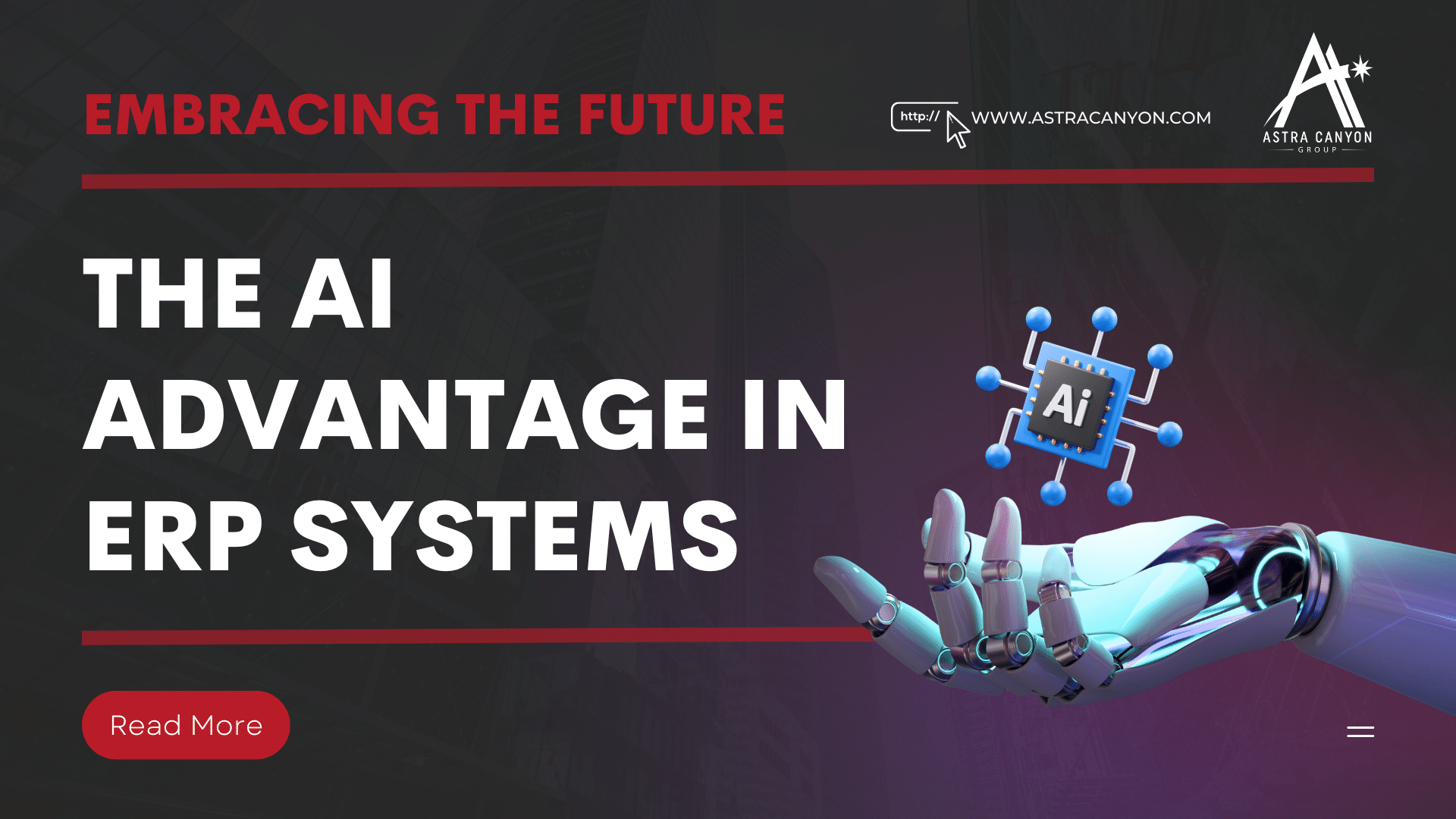 Bri Dascher:

Jul 20, 2023 10:24:22 AM
In the tech-savvy world of today, you might have already heard about or even dabbled in AI technologies like Chat GPT or Google Bard. But the...
Read More