9 min read
Cloud ERP Showdown: Comparing IFS vs SAP

Eric Smith : Jan 29, 2022 4:23:28 PM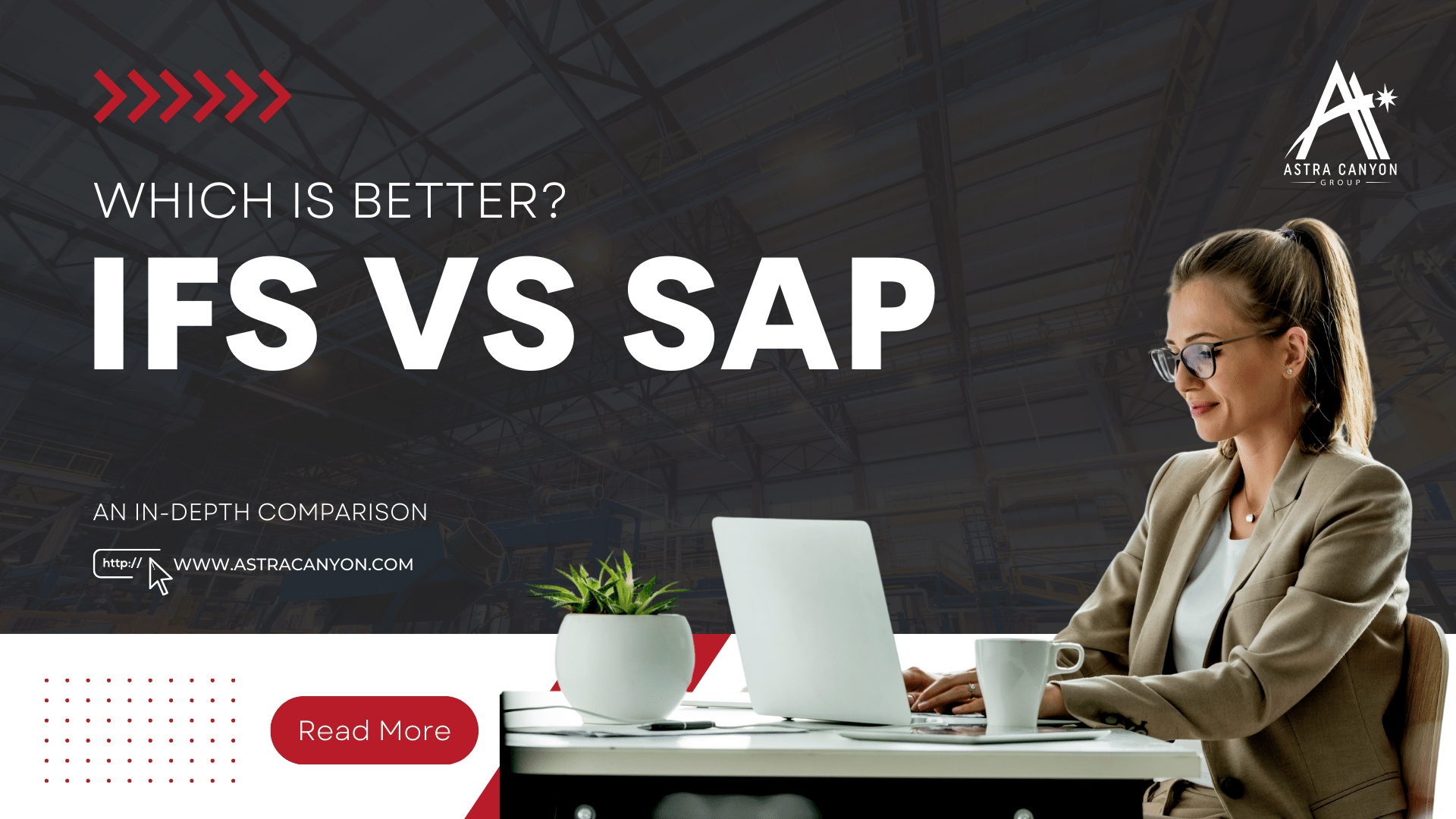 Selecting a new Enterprise Resource Planning (ERP) tool is an exciting and yet overwhelming project. It's also a decision with a lot of impact—you're investing time, energy, and substantial capital into something designed to manage nearly every aspect of your organization, there's tremendous pressure to get this right.

Although a new ERP system can help a company streamline processes, it's not always smooth sailing. An ERP system can be ineffective if an organization chooses the wrong one or it's not configured properly. In fact, one survey revealed that only 49 percent of organizations stated that their chosen ERP tool materially improved their business processes, while more than 5 percent did not find their new solution helpful at all.

So how can you be sure you're getting what you need? How will you know that you're selecting the right enterprise-wide solution?

Let's take a look at two of the leading ERP vendors available today: SAP and IFS. What are the similarities and differences between the two systems? Which one features more of your stakeholders' must-haves? Which one is best for your organization's needs?
About IFS
Well-known in Europe and an emerging name within the North American market, IFS positions itself as a different kind of ERP software. Unlike other tier 1 ERP suites, it's not as rigid and overly complex, which is likely to reduce the length of the duration of your implementation and decrease your time to value. A primary strength of IFS is its extensive knowledge of the industries in which it operates.
IFS is independently recognized as a leading, global supplier of enterprise software both in the cloud and on-premise. It's been carefully developed to help organizations take advantage of new and developing technologies, maximizing their agility. It excels in demanding settings within manufacturing, project, and service and asset management industries.
IFS has developed industry-tailored solutions for:
Aerospace and defense
Telecommunications
Energy, utilities, and resources
Engineering, construction, and infrastructure
Service industries
Manufacturing
Food and beverage
High tech office equipment
Oil and gas
Property and commercial services
IFS develops enterprise software solutions within the following categories:
Enterprise resource planning (ERP)
Enterprise project management
Enterprise asset management (EAM)
Enterprise service management (ITSM and ITOM)
Field Service Management (FSM)
IFS is deployed in either the cloud or on-premises and can be customized for a wide range of industries.
IFS offers:
Customer relationship management (CRM)
End-to-end finance support
Human capital management
Discrete and process manufacturing
Procurement support
Project management and project portfolio management
Supply chain management and logistics solutions
Fleet management
Constraint-based scheduling
Quality management
Reporting and analytics
Embedded CRM integrations
IFS recognizes that today's business landscape requires flexibility and control to meet rapidly changing markets. IFS strives to give businesses the ability to make real-time strategic and operational decisions, and the tools to avoid missing out on competitive opportunities.
About SAP
SAP has multiple offerings in the ERP space: SAP S/4HANA, SAP Business One, and SAP Business ByDesign. They also have a significant number of users on their legacy product, SAP ECC, which will come to an end in 2027. For the purposes of comparison, though, we'll refer to the S/4HANA product as "SAP."
SAP is billed as a single system so that departments like finance, manufacturing, human resources, supply chain services, and procurement can come together within a single unified system to manage the entire enterprise.
SAP is built for the cloud and runs on SAP HANA – a revolutionary database that can provide real-time processing and a simplified data model. SAP's integration between departments ensures the flow of information from one department to another without redundant data entry or bottlenecks, and it can help enforce financial processes and legal controls. It can also be leveraged to effectively use resources like labor, machines, and production capabilities with an easy-to-use interface.
SAP's ERP system is suitable for a range of industries. It's most commonly arranged into a three-tier architecture that enables optimum flexibility and scalability. These three tiers are:
The presentation tier: This is the graphical user interface that can be installed on any computer that uses Microsoft Windows OS or Mac OS, and serves as the point of communication between users and the ERP system.
The application tier: This is the core of the system, and is responsible for processing transactions, executing business logic, running reports, logging and monitoring access, and communicating with other applications.


The database tier: This is where business-generated data and SAP application programming are stored.
Key Features of Each ERP System
Both SAP and IFS have reputations for a wide range of features, but there are certain differences between the two that are important to note.
SAP Overview
SAP has a range of options to manage business operations, and automate and streamline processes, with real-time insights and features for supply chain and project management. Its main ERP offering is best used for larger businesses, but there are some cases in which larger mid-size organizations have found SAP to be useful, especially in the following industries:
Media
Passenger travel and leisure
Professional services
Sports and entertainment
Telecommunications
With financial planning, analysis, and real-time data to assess risks, streamline billing, and handle disputes, SAP helps users collect and reduce outstanding sales. It's also designed to enable contract automation processes and integrated risk and compliance management.
SAP becomes most cost-effective when used by larger organizations. It's geared towards enterprise companies that want a solid, general ERP to handle business processes, or need help managing systems within multinational conglomerates. The system is configurable and moderately user-friendly.
IFS Overview
IFS is used widely throughout Europe and is building an increased presence globally and in North America. It's ideal for medium-sized businesses and can assist with management for supply chains, expenses, and maintenance planning. IFS is especially suited to industries where fieldwork is essential, including core industries such as:
Service Industries
Manufacturing
Telecommunication, Energy, Utilities & Resources
Engineering, Construction & Infrastructure
Aerospace & Defense
Key features of IFS's ERP include document management and access from anywhere, including mobile devices. It also provides visibility of the entire manufacturing and production process, with robust project management tools that support a project from start to finish. It also offers tools to keep businesses compliant with industry and governmental standards and regulations. Compared to SAP, this makes IFS a better fit for discrete and process manufacturing as well as public sector work.
Companies use IFS to manage all stages of a project across its life cycle. Executives find value in being able to control budgets and schedules throughout the enterprise. Everything is embedded: contract management, engineering, manufacturing, building, install and commissioning, maintenance and service management, billing, and more.
Mobile-enabled service management is something that IFS performs exceptionally well. It's a true end-to-end solution that improves efficiency, ensuring fast response times and real-time reactivity. IFS' mobile field service software provides a complete toolkit for field engineers. Staff can use their mobile devices to locate replacement parts, create invoices, and give quotes on-site.
Users report that IFS helps them save time as they accomplish many business tasks:
Consolidate a fragmented IT landscape
Automate laborious manual processes
Provide a single view of the entire business
Prepare for future changes
Highly flexible, easily modified
Enables 100 percent paperless systems
Gives a real-time view of business
User-friendly nature minimizes training requirements
The IFS platform can be configured to map even the most complex service use cases. IFS is designed for businesses with 50 to 1,000+ users per organization and is widely used by mid-sized to large companies looking for industry-specific, user-friendly ERP solutions.
IFS Versus SAP: Serving Varied Industries
One of the major differences between IFS and SAP is which industries each system is best suited to serve. This can be a deciding factor for many businesses, especially those in niche markets.
SAP can be a fit for large, complex manufacturing and financial services organizations. In complex manufacturing, SAP has a variety of features to maximize the efficiency of production scheduling, even at a global level. Users can route and manage finite resources and assess financial information to avoid limitations. In financial services, users can use SAP to run simulations and see how organizational changes may impact a business. It also offers cash flow analysis and business planning.
IFS excels in functionalities for demanding settings. Organizations that combine elements of manufacturing, project management, service and asset management lend themselves to IFS' strengths.
For example, IFS is well-suited for all kinds of construction businesses-- infrastructural, commercial, and residential construction-- thanks to its unbeatable project management and mobile tools. IFS's project management features help users manage every stage of a project's life cycle, from tendering to installation to commissioning.
IFS is also the preferred ERP of utility companies thanks to features like contract management, engineering, and document management. It's ideal for businesses that occasionally or regularly send a workforce into the field or require a mobile workforce, including field service technicians as seen within the utility industries. It also has features for rostering, automation of resource planning, and even shift scheduling, making it a wise choice for those in this industry.
Ease of Integration: IFS Wins
Due to SAP's use of disparate systems and technologies, many companies find it overly complex to integrate. Often, there's a jumble of legacy processes, various solutions and acquired technologies, as well as the need for multiple tools to help make sense of the massive landscape.
Companies looking for a single flexible, modern, cost-efficient solution may find that IFS is better suited to their needs.
While SAP is indeed popular among digital-native businesses, it requires additional steps: Organizations must search for many applications and then go through the laborious process of stitching together a single infrastructure from dozens or even hundreds of separate applications. While the applications may each individually be considered "best-in-class," each one comes with a premium price tag and the need for major implementation, with only marginally better features that offer little, if any, noticeable difference for users.
One of SAP's biggest selling points is its flexibility in meeting deliverables for unique use cases. Unfortunately, this benefit comes at a cost -- that the added customizations also increases the difficulty of integration-- adding expense and time to projects.
IFS provides a different choice, one that is quite robust, even out-of-the-box: A primary, integrated program that saves time, money, and effort and also still delivers strong functionalities. As IFS's Chief Executive Officer Darren Roos shared:
"This idea that ... they're going to buy all of this very heterogeneous best-of-breed cloud suite, and then somehow figure out how to integrate all of these things and manage them on disparate release cycles with 200 people in IT is, frankly, fantastical, and they can't do it ...
We see customers saying, 'Yes, we're going to have to compromise a little on the functional depth that we're getting. But the value that we get from cost, time-to-value, and ease of use — and not having to hassle with all of this integration nonsense — is really compelling for us.'"
Simplicity and Efficiency of Major Updates and Migrations
Perhaps a key difference between SAP and IFS is in how major system updates happen now and in the future. Current SAP customers will already know they are faced with a timeclock and a dilemma, as SAP is withdrawing support for its popular ERP Central Component (ECC) program in 2027. This means that there are as many as 30,000 to 40,000 SAP customers that will be using an outdated ERP.
Facing this deadline, they will have to implement a new ERP, whether that's with SAP, IFS, or some other ERP system.
The difference is that once migrated to the newest version of IFS, IFS 10, users will never have to do another big update again. SAP users already have to go through a paradigm-shifting re-implementation from the ECC program and completely replace their entire database.
At this juncture, IFS may edge out as the winner, especially for asset- and product-intensive industries, especially since the current and future implementation methodologies have been designed to be cheaper, faster, and more efficient than SAP's ecosystem.
Configurability and Usability
Businesses searching for configurability should know that there are differences between IFS and SAP's ERP systems. For the majority of businesses, IFS can offer more configurable features and customizations at a slightly lower price than SAP. While this doesn't automatically mean that IFS is the right choice for every business in every industry, it's worth taking a look at the features and functionalities that are critical to your organization's success.
Sometimes the fault isn't found with the software, but with a human tendency to refuse change. New systems mean new ways of doing things. Users who refuse to abandon current working processes are destined to find fault with any new ERP software system, regardless of features. Other times, companies are reluctant to let go of software that has worked well in the past. It's important to discard old processes to prevent ERP being split into smaller projects, which can result in redundancy and higher costs.
It's also worth noting that while SAP does have an included interface, IFS exceeds SAP when it comes to ease of use. Since it is fully configurable for small and medium-sized businesses and has been engineered to grow alongside an organization without software disruptions or growing pains, many who are looking for custom configurations will opt for IFS.
Consider some of IFS Cloud's capabilities:
Remote assistance: Augmented Reality (AR) service calls and maintenance
Machine learning: Machine Learning (ML) capable of training, evaluating, and optimizing models based on your specific data, reducing need for dedicated data scientists within your organization or via outsourcing
Automation: Business Process Automation (BPA) to automate routines and streamline processes, saving time and money
Advanced optimization: algorithmic programming built on IFS' popular scheduling optimization; includes enhancements such as ability to predict travel times
Other Considerations
End-User Experience
SAP comes equipped with eye-catching visuals and a fancy, sleek-looking dashboard. IFS does not have the same veneer, but the underlying data foundation is exceptional. For some users, an attractive interface is very important. IFS is not as flashy, but it is a single product that delivers class-leading Service Management, Enterprise Resource Planning, and Enterprise Asset Management solutions built on a reliable platform.
The graphical interfaces that SAP provides may actually be a drawback in some instances. Because users can accomplish custom tasks through visual interfaces without knowing how to code, they may inadvertently produce needlessly complex programs, and cause additional complexities.
Breadth of Capability
SAP is used by a large number of organizations, including those that span the globe and especially by those involved in complex manufacturing processes, financial services, and procurement. To best serve their customers, SAP offers a wide array of features that are well-matched for businesses with high employee counts, varied departments, and a diverse array of operations.
IFS tends to be an effective choice for many specific industries and medium-sized businesses. While it doesn't have the same high volume of functionalities, it offers more targeted functionalities to suit companies that are involved in industrial manufacturing, construction, and utilities, and also for organizations that manage field service agents.
Consider this comparison: If SAP were a restaurant, it would be a large, national chain restaurant with an extensive menu. SAP's menu would be multiple pages, with all different kinds of mains, side dishes, desserts, drinks, and ordering options for a wide array of tastes. IFS would be more of a gastropub or specialty gourmet restaurant. Its menu is still globally influenced, but it's smaller, easier to navigate and everything is made with good, quality ingredients.
Which Solution Is Best?
Simply put, there isn't one single right answer. The right ERP solution for your business will come down to your unique business requirements, your people, budget and timeline. It's likely both solutions may meet your needs but finding the right technology partner is a big part of the decision. Choosing the right technology consulting partner to help you evaluate your needs is critical. We welcome a conversation with you to see if IFS Cloud ERP might make sense for your next ERP initiative.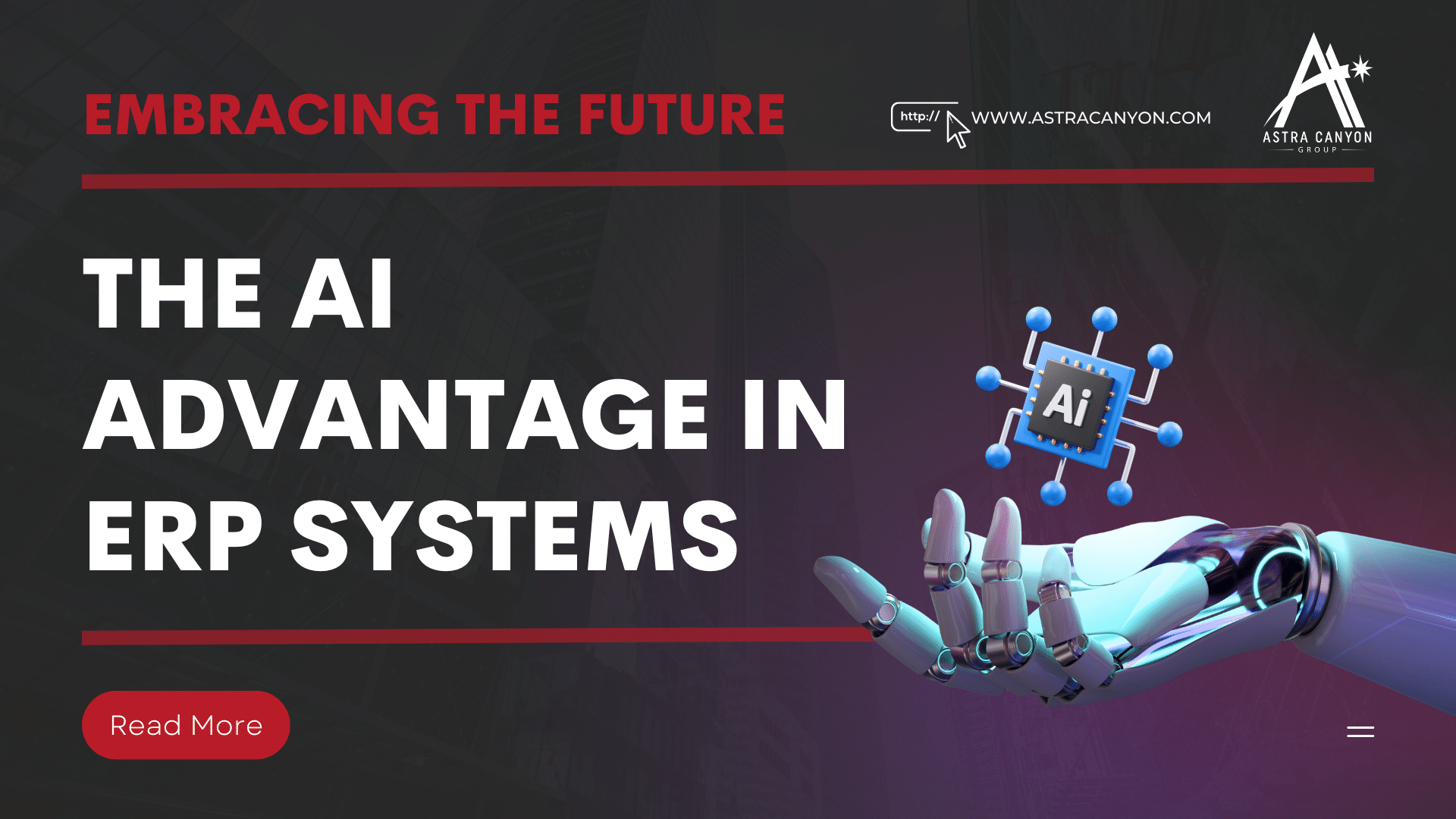 Bri Dascher:

Jul 20, 2023 10:24:22 AM
In the tech-savvy world of today, you might have already heard about or even dabbled in AI technologies like Chat GPT or Google Bard. But the...
Read More