If you've been tasked with evaluating new Enterprise Resource Planning (ERP) software, you know it isn't a project to take lightly. ERP, by definition, touches every aspect of your organization. From workers on the floor and in the field, to sales and support, all the way up to the highest executive levels, ERP software must accomplish a variety of goals for each of the departments within the enterprise. So selecting the right ERP vendor can be a real undertaking.
When an ERP selection and implementation is done right, it can easily be the most transformative endeavor a business can take on. The right ERP solution can make multiple areas of your business run more smoothly and improve your organization's efficiency, saving money and time. So it's critical that the software you choose helps to propel your organization forward, rather than causing bottlenecks to productivity. It's important to dedicate time to make sure you get it right.
If you've never led the charge of exploring a new ERP solution before, be aware that researching and evaluating different ERP products takes time. Plan accordingly. Dedicate adequate hours to investigating, and be sure to know who your company's stakeholders are: all of their needs must be considered. The best ERP for your organization is ultimately one that supports all parts of your business strategy effectively.
If you've already begun your research for new ERP software, you are probably already aware there are dozens of ERP software vendors, each one saying similar things, and promising similar results. How can you truly differentiate between them unless you are an expert in this area?
Several vendors with massive marketing budgets have somehow become household names: SAP, Oracle, and Microsoft (to name a few) spend huge sums of money on campaigns to promote their brands via billboards, airport ads, golf tournaments, and conference sponsorships to name a few. But does being a household name necessarily translate into having the best ERP software?
The big players get a lot of press, but that doesn't mean they're the best solution. The goal of this article is to help you familiarize yourself with a less familiar ERP vendor, one that already has a large global presence but isn't quite as well-known yet in North America.
The company's name is IFS and their ERP product is called IFS Cloud. We think you'll like what they're doing: at Astra Canyon, we certainly do.
The goal of this Buyer's Guide is to educate you on whether IFS Cloud ERP could be the right fit for your industry, budget, and goals for the long-term success of your business.
Don't Have Time to Read.
Watch the Short Blog Video Instead.
Who is IFS?
IFS is a privately held software company based out of Linköping, Sweden. They have over 4,000 employees and serve 10,000+ customers worldwide.
IFS got its start in 1983 and launched a product called IFS Maintenance in 1985. IFS worked for years, developing a full suite of business applications and in 1996 it was listed on the Swedish stock exchange.
In 2015 the company returned to being privately held, and since then it has invested heavily in its technology and ecosystem of partners, completely retooling its ERP solution for the cloud and becoming a leader in the European market.
IFS works to understand how industries operate, getting to know common obstacles and where opportunities for change exist. Their advisory councils meet regularly with customers to gather their views, which are further discussed in worldwide user groups, always working towards continuous product improvement.

IFS ERP System Overview
IFS delivers ERP software tailored to companies who manufacture and distribute, build and maintain assets, and/or manage service-focused operations. Within a single platform, their industry-specific products connect innately to a data model and take every advantage of embedded digital innovation. The goal is to help businesses be their best when it really matters —at what IFS calls the "Moment of Service."
As one might expect, the IFS ERP system is a suite of applications is broad, always ready to serve a wide range of companies looking for new ERP software. They offer a flexible deployment with a choice of operating models-- from Cloud to Self-Managed.
What's distinctive about IFS is that it can be adapted to deal with unique challenges specific to certain types of businesses. For example, IFS has a really strong value proposition for complex manufacturing companies, especially ones that provide field services and have many assets to track and manage. We'll get into details further below, but keep in mind how robust IFS is when it comes to handling industry-specific needs.
Traditionally, it's technology companies and industry analysts who drive the categorization of software. They create labels like ERP, Enterprise Asset Management (EAM), and Field Service Management (FSM). But IFS believes that software categorization is ultimately just a distraction. With IFS Cloud ERP, all of the functional capabilities of ERP, EAM, and FSM are inherently built-in but individually deployable. You can add or extend modules to match your specific, changing business needs.
From procurement to payroll integration, remote assistance to reverse logistics, IFS Cloud encompasses the entire suite of capabilities and delivers it in a single product. Their software architecture addresses the entire modern business value chain. They seek to adopt and apply disruptive technologies like the Internet of Things (IoT), Artificial Intelligence (AI), mobility and augmented reality (AR).
IFS Cloud ERP system is designed to help you work smarter, innovate faster, and achieve more. Let's dive into what's included.
IFS Financial Management Module
IFS Finance is at the heart of the system, enabling accurate and timely information to drive reporting and decision making. The ERP system is seamlessly integrated to help you face key business challenges.
Get insight on corporate consolidations, project financial control, strategic forecasting, operational performance, and global compliance.
You can get a faster and more accurate close with integrated ledgers. Use the ledgers to drill down to the source, or drill up to consolidation positions.
Users have access to highly graphical, visual dashboards that provide role-based views of important information. And access points to the IFS ERP system are controlled by role-based security/permissions.
IFS Finance supports the following features and more:
IFS Engineering Module
Today's engineering workplace is witnessing a reduction in staffing, which can lead to challenges. IFS Cloud seeks to leverage the technology that's essential for business growth despite decreasing numbers.
There's pressure and competition for the engineering industry. Large, one-off projects need to be delivered on time and on budget. IFS Cloud efficiently manages new projects by adopting data-driven, integrated processes and systems.
Includes the following features:
Design collaboration
Plant design and commissioning
Engineering change management
And more
IFS Manufacturing Module
IFS has extensive, expert knowledge and cloud-enabled solutions for manufacturing. Automotive, chemicals, food and beverage, life sciences, and discrete product manufacturers can benefit from managing the entire life cycle of their products with IFS Cloud.
More and more manufacturers are finding the need to support engineered-to-order (ETO) and configured-to-order (CTO) modes. These applications are complex, and there's increasing competition in the global marketplace.
The IFS manufacturing solution enables you to manage your products' entire lifecycle within the cloud. Includes the following features and more:
IFS Project Management Module
In project management, the greatest asset is a smooth and predictable delivery. The IFS Cloud solution complements many projects: engineer-to-order, manufacture, engineering companies (EPC), construction businesses, consultancy and R&D departments, project-based asset service providers, and more.
IFS gives all projects accurate, timely data and updates from across the enterprise, in real-time.
You can use it to manage all stages of a project. Monitor life cycle, budgets and schedules across your organization's ecosystem. You'll find embedded contract management, engineering and manufacturing, install and commission, maintenance and service management, risk management, billing, and other tools.
IFS Projects includes the following features and more:
IFS Supply Chain Management Module
Supply Chain Management (SCM) is integrated as a module of the IFS Cloud. No matter where you're located in the world, its purpose is to help you run smooth and profitable operations. It can handle multiple languages, currencies, and sites on a single platform.
Optimize warehouse processes and space with a fully integrated Warehouse Management System. Plan for demand and forecast accurately while cutting admin costs.
Manage orders and returns. The IFS Cloud multi-site integration gives you greater visibility and control of your products, capacity, and inventory.
Includes the following features:
IFS Maintenance Module
IFS offers world-class optimization solutions and service management capabilities. Make sure your business can handle even the trickiest maintenance use cases.
The IFS module helps you accelerate and manage your digital transformation goals. Take your business into the future with a ERP system capable of handling current and future ways of doing business.
Includes the following features:
IFS Human Capital Management Module
Human Capital Management (HCM) is an integral part of your business (and the IFS Cloud). Develop your greatest resources-- your people-- through strategic sourcing and planning, talent development, time and expenses allocation, performance management, and core HR tasks.
IFS Cloud enables complex, time-based costing, with variables tailored to your requirements. The ERP system gives you the power to manage people's activities in accordance with your corporate, legal and contractual rules.
What resources does your business need to succeed? What skills do future employees need? Where will your people be deployed? How many do you require? Have you factored in attrition?
The ERP system helps to digitize your strategic goals. You get the data you need to move ahead in the people planning process.
Because the ERP system is integrated, budget teams can share the same data to get accurate headcount forecasting. You can plan for the future and develop your current workforce to maximize talent and keep your most valuable employees engaged.
Includes the following features and more:
IFS Sales and Service Module
Today's business landscape is changing rapidly. To stay ahead of the competition, you need flexibility, control, and insight to meet your customers' needs. Without the ability to make real-time sales and service decisions, companies fall behind.
Built to meet the specific needs of your business and the markets you serve, IFS Cloud combines deep industry and functional strength with intelligence that can be put to work from day one.
Includes the following features and more:
Overwhelmed by all the info? We get it. This seems like a ton of functionality and it is. But keep in mind that not every company and user will need access to each and every IFS module and its associated functionality.
Astra Canyon's purpose is to listen and advise. We'll help you craft and propose an IFS solution to handle what makes your business unique. As we begin to grasp the challenges you face and understand your organization, we'll ensure that your users have proper access to all the features and functions necessary to run your business successfully on IFS Cloud
What Industries Does IFS Support?
Who's a good fit for IFS ERP?
Unlike other leading ERP solutions, IFS is a frontrunner in tailored solutions. They lead the way with industry-specific applications that are optimized to handle certain businesses right out of the box.
Sure, you can try customizing other ERP solutions to accommodate your specific business processes, but when you implement an ERP solution with deep capabilities baked right into the core offering, your business gets up and running faster. You enjoy the benefits of reduced implementation and optimization costs, driving lower TCO (cost of ownership).
In essence, you get more value, spend less money, and reduce complexity within your infrastructure. Now, that's a benefit you can't put a price on.
As you consider various ERP systems you'll begin to see that many of the ERP systems in the market today tend to be generalist-type solutions. They are designed for the masses and offer the ability to either customize the ERP for their particular industry and/or offer a robust ecosystem of 3rd party products you can "plugin" natively to support various business processes, which some refer to as a "best of breed". While a "best of breed" approach on paper sounds nice, it really falls short of the promises it makes by adding additional complexity to your infrastructure (integrations), generally increases your IT spend, and creates more software vendor relationships to manage.
On the other hand, IFS Cloud ERP delivers native capabilities to support industries right out of the box, without the need for multiple third-party products or heavy-duty customizations.
While this particular blog post is focused primarily on IFS Cloud ERP, IFS also provides Enterprise Asset Management (EAM) and Field Service Management (FSM) capabilities. This is where IFS really shines brightest-- it helps companies manage more than what a typical ERP would handle.
Companies that need to overhaul their ERP software and also need solutions to support service workers in the field and have an extensive list of expensive assets they need to maintain. Being able to manage the entire business with three unified applications from a single vendor is a very powerful value proposition.
If you are in one of the following industries you owe it to yourself to see if IFS Cloud is right for your organization:
AEROSPACE & DEFENSE
Defense In-Service Support
Military Market
A&D Manufacturing
Airlines & Fleet Operators
Independent MRO
CONSTRUCTION, INFRASTRUCTURE & INDUSTRIAL SERVICES
Construction, Infrastructure & Industrial Services
Engineering Contractors
Shipbuilding & Maritime
MANUFACTURING
Automotive Manufacturing
Discrete Manufacturing
Process Manufacturing
TELECOMMUNICATIONS, ENERGY, UTILITY & RESOURCES
Mills & Metals
Mining & Mining Services
Oil & Gas
Power Distribution
Power Generation
Power Transmission
Telecommunications
Transportation, Infrastructure & Operations
Water Supply & Treatment
FIELD SERVICES
In terms of where IFS is heading next, they've made substantial investments in their Field Service Management (FSM) portfolio and have the goods to prove they are the go-to vendor for companies looking for FSM solutions, including mobile capabilities. See Gartner's Magic Quadrant reviews below.
IFS has made several FSM acquisitions in recent years and continues to view this as a sweet spot, especially in the mid-market enterprise space. So you can probably be on the lookout for more Field Service enhancements.
IFS ERP Analysts Reviews
What do the ERP Industry analysts say: Gartner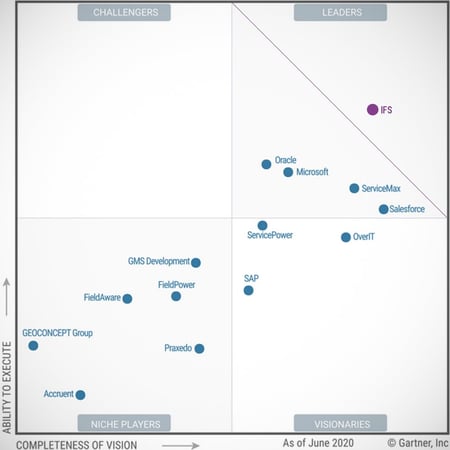 Gartner has become the gold standard in the industry for non-biased reporting and analysis on the various software applications in the marketplace and ranks them based upon their capabilities and real-life customer feedback.
The IFS ERP system was named a Visionary in Gartner's Magic Quadrant for Cloud ERP for Product-Centric Enterprises and a leader in the Magic Quadrant for Field Service Management, with IFS leading the way in its ability to execute at the highest level.
This recognition by Gartner is additional proof that IFS Cloud ERP provides a very compelling ERP value proposition to businesses that also require a field service capability in conjunction with an ERP solution.
What do the ERP Industry analysts say: IDC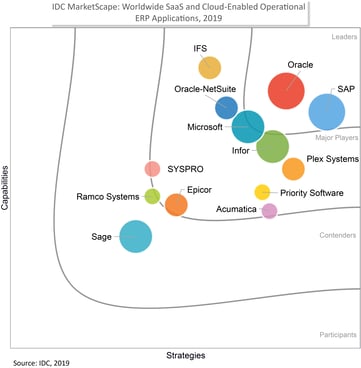 Although IFS Cloud lacks name major recognition in the United States, the IDC MarketScape report on Cloud-Enabled ERP placed IFS within the "Major Players" category, ranking them higher than Oracle and SAP on the "capabilities" axis with the ability to execute.
The report went on to highlight why IFS is such a great ERP for complex manufacturing companies, citing one example in IFS's Dynamic Scheduling Engine. They mentioned: "Artificial Intelligence (AI) was applied to the IFS Dynamic Scheduling Engine for a transportation company, which increased the availability of working machines by 20%—allowing more contracts to be completed without the addition of staff."
*IDC MarketScape: Worldwide SaaS and Cloud-Enabled Operational ERP Applications 2019 Vendor Assessment, IDC #US43702818, March 2019
What do IFS ERP customers say: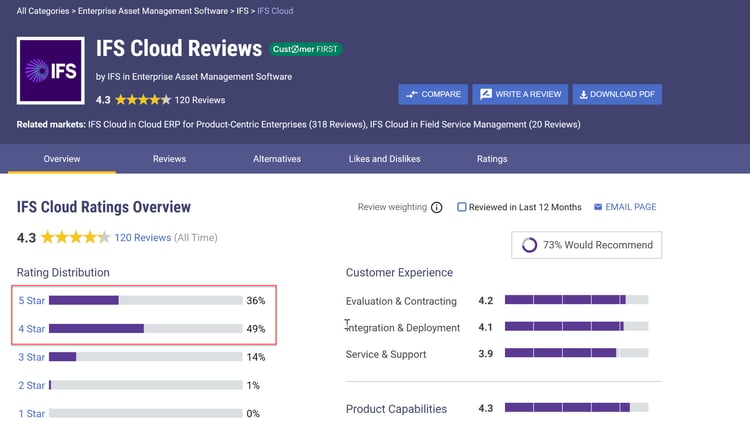 It's one thing to win the praises of industry analysts like Gartner and IDC, but it can be even more meaningful to hear feedback from real customers who use the product every day. Peer Insights by Gartner contains 120 reviews of IFS Cloud, with more than 85% showing a 4-or 5-star rating.
For example, one IFS customer went on to state:
"It offers an attractive, efficient user experience that helps in finding what you need to do your duty. So, you can spend more time managing your business and less time managing the software. It allows you to stay agile, ready for evolution without interrupting implemented solution. It contains HR and finance modules and makes it easier to check data. One major benefit is that it has a live dashboard to view everything on one page and is completely customizable. It has a live stream button that displays the progress of the invoice. It is secure ERP software and is available for every scale of the company. It is inexpensive as compared to other trending ERPs in the market. "
Source: Gartner Peer Insights
Another popular ERP software review site, G2Crowd, gives some good feedback, too. On that site, 70 of the 86 online reviews rate IFS Cloud with either 4 or 5 stars.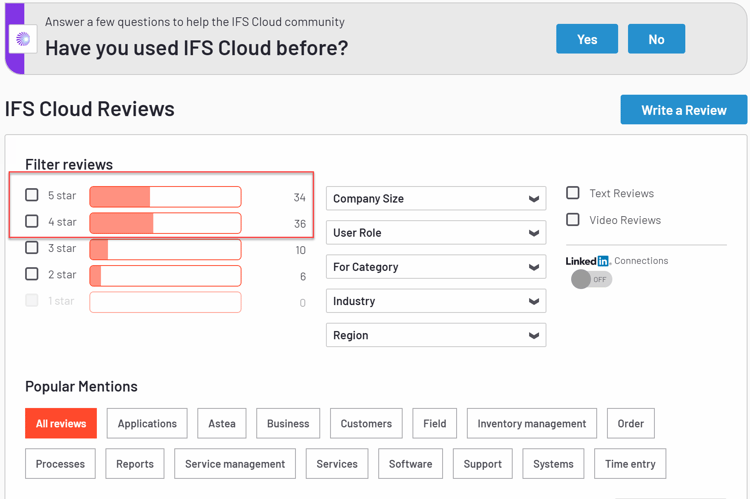 By considering both the professional analysts' and the end-user reviews of IFS Cloud, we can see that it ranks highly no matter who is evaluating it. And, with continued research, we feel you'll get the sense that IFS is ready for prime time, especially for complex manufacturing and service industries.

IFS Pricing & Licensing Details
IFS pricing is based upon a named-user licensing approach, not concurrent as with some other software applications.
When you license the IFS Cloud ERP application suite you essentially get access to all the modules (features & functions) necessary for your business to run on IFS ERP.
Unlike other software applications where there is a separate price for the suite, the modules, transaction volumes, and the users, IFS is much more transparent and takes a simplified licensing approach.
Furthermore, the IFS software license price also includes application hosting (provided by IFS). Therefore there's no need to build out the internal infrastructure to support the ERP application like you would with traditional on-premise ERP software. However, keep in mind this is an option if you are required to deploy IFS on-premise.
As part of the hosting and support services, IFS provides clients with twice a year annual updates to take advantage of new feature releases, enhancements, and bug fixes.
To learn more about IFS Cloud ERP licensing and to get started with your IFS ERP software budget process take the assessment below to find out how much IFS will cost your organization.
IFS Competitors & Alternatives
IFS VS SAP

SAP has multiple offerings in the ERP space: SAP S/4HANA, SAP Business One, and SAP Business ByDesign. They also have a significant number of users on their legacy product, SAP ECC, which will come to an end in 2027. For the purposes of comparison, though, we'll refer to the S/4HANA product as "SAP."
SAP is billed as a single system so that departments like finance, manufacturing, human resources, supply chain services, and procurement can come together within a single unified system to manage the entire enterprise.
SAP is built for the cloud and runs on SAP HANA – a revolutionary database that can provide real-time processing and a simplified data model. SAP's integration between departments ensures the flow of information from one department to another without redundant data entry or bottlenecks, and it can help enforce financial processes and legal controls.
SAP's ERP system is suitable for a range of industries. It's most commonly arranged into a three-tier architecture that enables optimum flexibility and scalability. These three tiers are:
The presentation tier: This is the graphical user interface that can be installed on any computer that uses Microsoft Windows OS or Mac OS, and serves as the point of communication between users and the ERP system.
The application tier: This is the core of the system, and is responsible for processing transactions, executing business logic, running reports, logging and monitoring access, and communicating with other applications.


The database tier: This is where business-generated data and SAP application programming are stored.
Both SAP and IFS have reputations for a wide range of features, but there are certain differences between the two that are important to note.
SAP has a range of options to manage business operations, and automate and streamline processes, with real-time insights and features for supply chain and project management. Its main ERP offering, S/4 HANA is best used for larger businesses, but there are some cases in which larger mid-size organizations have found SAP to be useful, especially in the following industries:
Consumer Industries
Financial services
Energy & Natural Resources
Discrete Manufacturing
Services Industries
Public Services
IFS Versus SAP: Serving Varied Industries
One of the major differences between IFS and SAP is which industries each system is best suited to serve. This can be a deciding factor for many businesses, especially those in niche markets.
SAP can be a fit for large, complex manufacturing and financial services organizations. In complex manufacturing, SAP has a variety of features to maximize the efficiency of production scheduling, even at a global level. Users can route and manage finite resources and assess financial information to avoid limitations. In financial services, users can use SAP to run simulations and see how organizational changes may impact a business. It also offers cash flow analysis and business planning.
IFS excels in functionalities for demanding settings. Organizations that combine elements of manufacturing, project management, service and asset management lend themselves to IFS' strengths.
For example, IFS is well-suited for all kinds of construction businesses-- infrastructural, commercial, and residential construction-- thanks to its unbeatable project management and mobile tools. IFS's project management features help users manage every stage of a project's life cycle, from tendering to installation to commissioning.
IFS is also the preferred ERP of utility companies thanks to features like contract management, engineering, and document management. It's ideal for businesses that occasionally or regularly send a workforce into the field or require a mobile workforce, including field service technicians as seen within the utility industries. It also has features for rostering, automation of resource planning, and even shift scheduling, making it a wise choice for those in this industry.
Ease of Integration: IFS Wins
Due to SAP's use of disparate systems and technologies, many companies find it overly complex to integrate. Often, there's a jumble of legacy processes, various solutions and acquired technologies, as well as the need for multiple tools to help make sense of the massive landscape.
Companies looking for a single flexible, modern, cost-efficient solution may find that IFS is better suited to their needs.
While SAP is indeed popular among digital-native businesses, it requires additional steps: Organizations must search for many applications and then go through the laborious process of stitching together a single infrastructure from dozens or even hundreds of separate applications. While the applications may each individually be considered "best-in-class," each one comes with a premium price tag and the need for major implementation, with only marginally better features that offer little, if any, noticeable difference for users.
One of SAP's biggest selling points is its flexibility in meeting deliverables for unique use cases. Unfortunately, this benefit comes at a cost -- that the added customizations also increases the difficulty of integration-- adding expense and time to projects.
IFS provides a different choice, one that is quite robust, even out-of-the-box: A primary, integrated program that saves time, money, and effort and also still delivers strong functionalities. As IFS's Chief Executive Officer Darren Roos shared:
"This idea that ... they're going to buy all of this very heterogeneous best-of-breed cloud suite, and then somehow figure out how to integrate all of these things and manage them on disparate release cycles with 200 people in IT is, frankly, fantastical, and they can't do it ...
We see customers saying, 'Yes, we're going to have to compromise a little on the functional depth that we're getting. But the value that we get from cost, time-to-value, and ease of use — and not having to hassle with all of this integration nonsense — is really compelling for us.'"
Simplicity and Efficiency of Major Updates and Migrations
Perhaps a key difference between SAP and IFS is in how major system updates happen now and in the future. Current SAP customers will already know they are faced with a timeclock and a dilemma, as SAP is withdrawing support for its popular ERP Central Component (ECC) program in 2027. This means that there are as many as 30,000 to 40,000 SAP customers that will be using an outdated ERP.
Facing this deadline, they will have to implement a new ERP, whether that's with SAP, IFS, or some other ERP system.
The difference is that once migrated to the newest version of IFS, IFS 10, users will never have to do another big update again. SAP users already have to go through a paradigm-shifting re-implementation from the ECC program and completely replace their entire database.
At this juncture, IFS may edge out as the winner, especially for asset- and product-intensive industries, especially since the current and future implementation methodologies have been designed to be cheaper, faster, and more efficient than SAP's ecosystem.
Configurability and Usability
Businesses searching for configurability should know that there are differences between IFS and SAP's ERP systems. For the majority of businesses, IFS can offer more configurable features and customizations at a slightly lower price than SAP. While this doesn't automatically mean that IFS is the right choice for every business in every industry, it's worth taking a look at the features and functionalities that are critical to your organization's success.
Sometimes the fault isn't found with the software, but with a human tendency to refuse change. New systems mean new ways of doing things. Users who refuse to abandon current working processes are destined to find fault with any new ERP software system, regardless of features. Other times, companies are reluctant to let go of software that has worked well in the past. It's important to discard old processes to prevent ERP being split into smaller projects, which can result in redundancy and higher costs.
It's also worth noting that while SAP does have an included interface, IFS exceeds SAP when it comes to ease of use. Since it is fully configurable for small and medium-sized businesses and has been engineered to grow alongside an organization without software disruptions or growing pains, many who are looking for custom configurations will opt for IFS.
Consider some of IFS Cloud's capabilities:
Remote assistance: Augmented Reality (AR) service calls and maintenance
Machine learning: Machine Learning (ML) capable of training, evaluating, and optimizing models based on your specific data, reducing need for dedicated data scientists within your organization or via outsourcing
Automation: Business Process Automation (BPA) to automate routines and streamline processes, saving time and money
Advanced optimization: algorithmic programming built on IFS' popular scheduling optimization; includes enhancements such as ability to predict travel times
Other Considerations
End-User Experience
Both SAP and IFS comes equipped with eye-catching visuals and a fancy, sleek-looking dashboard. For most modern software end users an attractive and efficient end user interface is very important. While IFS has been refreshed to provide a great looking UI, its class-leading Field Service Management, Enterprise Resource Planning, and Enterprise Asset Management tight integration makes all the difference.
The graphical interfaces that SAP provides may actually be a drawback in some instances. Because users can accomplish custom tasks through visual interfaces without knowing how to code, they may inadvertently produce needlessly complex programs, and cause additional complexities.
Number of Features
SAP is used by a large number of organizations, including those that span the globe and especially by those involved in complex manufacturing processes, financial services, and procurement. To best serve their customers, SAP offers a wide array of features that are well-matched for businesses with high employee counts, varied departments, and a diverse array of operations.
IFS tends to be an effective choice for many specific industries and medium to large sized businesses. While IFS may not have the number of products as SAP, it offers more targeted functionalities to suit companies that are involved in industrial manufacturing, construction, and utilities, and also for organizations that manage field service employees.
IFS vs Oracle (ERP Comparison
IFS ERP Overview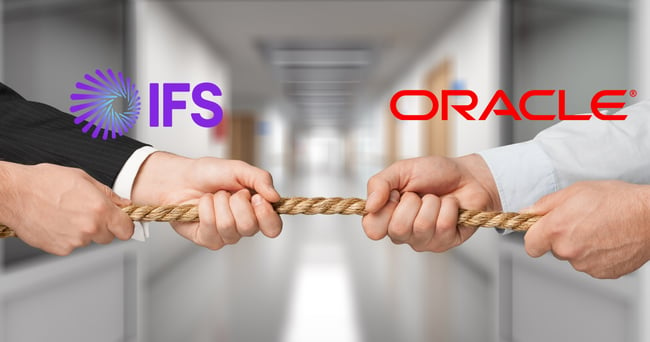 When it comes to ERP software, IFS tends to think outside the box.
After spending years identifying what manufacturing customers really want and need from an ERP system, they've retooled their flagship ERP to deliver users with a best-in-class cloud-based ERP solution that's more useful, in-depth, and more integral to key business processes than other leading ERP applications.
In fact, IFS Chief Product Officer, Christian Pedersen, went on the record stating:
"One of the things that we saw from working with customers was that increasingly they were bringing [business applications] together. What became clear was that the traditional solution categories like ERP, and Enterprise Asset Management and CRM, were not what customers ever wanted: it's something that we, as an industry, invented and brought to market. The reality is what customers are looking for are end-to-end business processes."
To offer a more comprehensive ERP that organizations can fully incorporate into their business processes, IFS launched IFS Cloud in the spring of 2021, which included an entire suite of tools built around 15,000+ native APIs allowing users to work beyond the traditional, established application classes of ERP, finance, Human Resources, payroll, supply chain, and customer relationship management (CRM).
IFS makes this happen by building these tools atop a single data model, to have the power to offer products that serve organizations throughout their business processes, rather than just checkboxes for individual software industry product categories.
IFS Cloud solves a major ERP problem: Large, monolithic enterprise solutions that are costly to implement and run, and often fail since they couldn't truly get the entire enterprise into one solution.
Thanks to API integration, plus the option of creating a user interface combining application data from multiple sources, IFS allows users to bring together tools from many different vendors, in essence building their own IFS ERP; one that does more than just enterprise resource planning.
The Details
While many ERP vendors try to be all things to all types of businesses, IFS has decided to double down on where they excel, which is providing an integrated set of ERP, EAM, and FSM solutions to manufacturers within the mid-market enterprise (MME), all on a single platform. In fact they do it better than all the leading ERP vendors including Oracle, SAP, and Microsoft.
IFS's mid-market manufacturing focus makes sense for a lot of organizations where solutions like Oracle NetSuite or SAP BusinessOne are not quite as capable but don't require an eight-figure budget and 24-month implementation like Oracle Cloud or SAP S/4 HANA either.
IFS's strengths lie in a few particular areas, making it the ideal ERP solution for companies in these industries.
Construction
Field services like utilities, gas, and electric
Industrial manufacturing
Mining
Aerospace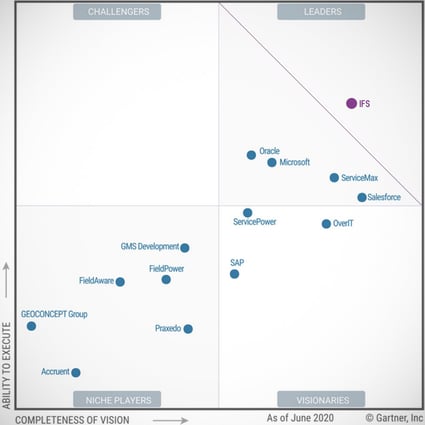 For starters, IFS is flexible. The solution offers programming that makes it easy for users to create custom layers and other personalizations without impacting its core system to tailor IFS to an organization's individual needs.
It doesn't require advanced, outside programmers to make changes, and can typically be adapted and customized in-house.
Additionally, IFS enables enterprises to provide an exceptional customer experience, in particular where businesses have field operations, providing robust features and capabilities for team members working in the field.
Some ERP systems are too heavily focused on the back-office side of ERP with a focus on things like financials and inventory management.
While these are essential, they aren't as unique or impactful as the customer experience.
To further validate the legitimacy of IFS's commitment to the customer experience Gartner recently named IFS as the leader in the Field Service Management category, displacing many well-known brands such as Oracle, Microsoft, ServiceMax, and Salesforce.
IFS vs Oracle ERP
Like IFS, Oracle's ERP Cloud is a popular ERP tool commonly used in the public and private sectors. It's comprehensive, cloud-based, and can be simple to use and scale, but its use in certain industries is not as robust or intuitive as IFS.
Oracle describes its ERP solution:
" Oracle ERP Cloud delivers connected teams, unified data, and real-time insights to help you and your finance team ensure that the best business decisions are made. With ERP delivered as a service in the cloud, your organization can be future-ready and outpace change."
It's an ERP that's been designed with streamlining business processes in mind, with an integrated financial management system and available modules for things like procurement, project portfolio management, risk management, and compliance, which is perhaps why it's one of the most commonly used ERP solutions on the market today.
Oracle is a strong fit for global and multinational companies (it even supports a whole host of languages), but that doesn't mean it's always well-suited for mid-market organizations.
Over the last decade, Oracle has acquired many other companies with ERP-related tools and implemented many of the features and functionalities of these into their core EPR solution, which enables companies to easily integrate Oracle with other best of breed departmental applications (e.g. HCMS, Marketing Automation, FP&A, etc.).
Compared to IFS, Oracle's three primary area's of strength falls within the following categories:
CPQ - Configure Price Quote
Oracle offers a robust configure, price, and quote (CPQ) capability. This is useful for manufacturing companies that engineer or make to order products empowering sales team members to easily configure and customize quotes on the fly for its clients, which accelerates the order to cash process while delighting customers in return.
HCMS - Human Capital Management Systems
Oracle has very strong capabilities within its Talent Management and Human Capital Management offerings, and the products integrate seamlessly with the core Oracle ERP functionality. For businesses considering Workday or SuccessFactors in addition to an ERP solution, Oracle can be a great alternative.
Performance Management, Business Intelligence & Reporting
With the acquisition of Hyperion several years ago, Oracle was able to bring those capabilities into its Cloud ERP product. For businesses looking for best-in-class reporting, dashboard, and performance management capabilities, Oracle is a very strong contender.
The bottom line: While Oracle has some impressive capabilities, it doesn't offer the breadth of manufacturing and field service capabilities as strongly as IFS does. Even though Oracle acquired JD Edwards several years ago its more complex manufacturing capabilities are not fully baked into Oracle's cloud offering. For businesses with complex manufacturing needs Oracle Cloud ERP is not ready for prime time and this is especially true for manufacturers that have global and/or complex supply chains.
IFS vs Oracle (EAM comparison)
IFS EAM Overview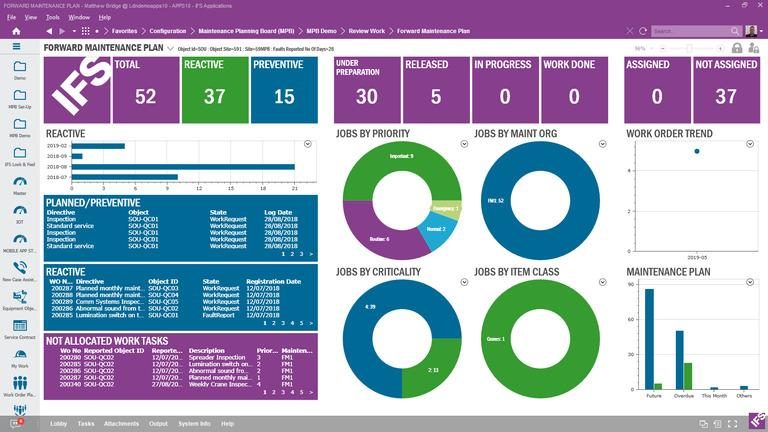 Maintenance management software or enterprise asset management (EAM) can be vast and confusing. IFS seeks to simplify these processes. IFS EAM has been engineered to serve as a comprehensive EAM model that supports organizations throughout the entire lifecycle and each stage of use, applying vital evaluations that aid in both predictive and preventative maintenance.
IFS's EAM is designed to make project management effortless, sharing all kinds of available metrics to track asset integrity, performance, and maintenance status, components, and heavy equipment. The computerized maintenance management system (CMMS) also features a mobile platform for field use so that any user with access can check reports or make evaluations regardless of location.
Oracle EAM Overview
Oracle's EAM was put together to support the needs of many industries with an asset lifecycle overview and self-service portals that speed up the process of sharing maintenance information and other updates.
With Oracle, users can get fixed plans, mobile infrastructure, and linear evaluations of their processes. They also get support for financial planning via real-time analytics and preventative maintenance schedules to deliver better results and reduce equipment breakdowns.
An Overview of EAM Features for Oracle and IFS
Work Orders
When users need to open, process, and complete work orders like customer service tickets or maintenance tasks, they need an efficient process that reduces scheduling issues and other errors.
IFS edges out over Oracle thanks to its ability to limit assert downtime and avoid scheduling errors. With IFS, users can create work orders then assign them to the right team, all via a mobile app and calendar tool.
Thanks to these features, organizations can plan project management tasks, maintenance work, and other services, set preventative schedules based on equipment needs, inspections, and more, and even implement a scheduling optimization and planning module.
Oracle automates work order creation and resource allocation and allows users to route work orders to the right teams to streamline the workflow, then track the work performed for quality assurance. It can also remind users of upcoming work orders and repeated maintenance tasks so nothing gets missed or overlooked.
Asset Management
Asset lifecycle management sits at the very center of EAM software, and both IFS and Oracle do well by their customers to help maintain assets.
IFS's maintenance system includes many asset management features for:
Fixed assets
Physical assets
Mobile assets
IFS also has a centralized database that allows organizations to track asset information including costs, warranties, work orders, documents, and more, then takes things a step further by integrating with backend processes and service level agreement tracking to maintain compliance.
Oracle's EAM provides full transparency into asset activities like transactions, usage, maintenance history, warranties, and more. Organizations have the power to assign parts lists to individual assets then track their locations, allow users to check out assets, then check them back in when they are finished to track employee usage. It also combines maintenance tasks with finances into one operation, ensuring compliance and worker safety.
Maintenance Management
Again, IFS surpasses Oracle in abilities here because the solution offers preventative maintenance to help organizations maintain their assets and keep them in prime condition. It comes equipped with detailed planning tools that help users plan and manage the disruption of business processes for maintenance, and also shares in-depth analytics for enterprise-wide maintenance. Thanks to calendar-based scheduling, users can rest easy knowing that all maintenance is up-to-date and executed by the right teams at the right time. Plus, the system stores maintenance logs for easy access.
Oracle relies on integration, not the base CMMS, which complicates things. It does enable standardized maintenance and preventative maintenance procedures, as well as a scheduler workbench tool to schedule work orders and maintenance.
Materials Management
Organizations need to be able to track the assets flowing in and out of their facilities. Materials management includes things like audit trails, hazardous materials tracking, material allocations, item classification, parts management, and more. Once more, IFS is just a step ahead of Oracle with embedded materials management features that automate the entire process without having to switch between systems. IFS strikes the right balance for materials management with the full incorporation of procurement and purchasing management features, plus all the basic materials management features that other providers like Oracle offer.
Reporting and Business Intelligence
Organizations need to choose a solution that allows users to collect data on their assets then use this information to gather essential insights on how these assets perform, then make future predictions based on real data.
Yet again, IFS sneaks ahead thanks to built-in integrations. Oracle's CMMS has robust reporting, data intelligence, and self-service business intelligence, but IFS has built-in analytics tools and a customizable dashboard to help make sense of it all, and create KPI reports for individual assets and the entire enterprise, then integrate with Microsoft Suite and Microsoft BI for even more advanced reporting and analytics.
IFS Cloud ERP Pros & Cons
Pros
IFS offers a compelling, comprehensive suite of applications (ERP, EAM, and ESM) purpose-built for a variety of product and asset-centric industries, including Aerospace & Defense, Asset Intensive, Automotive, Energy and Utilities, Engineering, Construction and Infrastructure, High Tech Manufacturing, Industrial Manufacturing, Oil & Gas, Process Manufacturing, Retail and Wholesale, and Service Providers.
IFS is PE-backed and investing heavily in R&D. Its singular focus is on its suite of cloud-based ERP, EAM, and Service Management products. There are no competing product roadmaps or ERP functionality overlaps as you see with many other vendors. For example, Oracle, SAP, and Microsoft each offer between 4 and 5 different ERP products.
IFS is a proven ERP vendor with thousands of global deployments and a team of over 4000 employees across more than 30 countries.
IFS ERP software offers a variety of deployment options, such as public cloud, private cloud, or on-premise.
IFS Cloud is engineered to use responsive design and is optimized to work regardless of device or location preference.
Cons
IFS is not a household name like SAP or

Oracle

, so companies do not give it adequate consideration (unless recommended by a colleague and/or

ERP selection firm

).
The IFS ecosystem is still small compared to larger vendors, so it can be more challenging to find consultants with deep IFS experience. Astra Canyon Group is by far the largest IFS consulting organization in North America.
IFS offers a robust ERP solution designed for complex organizations. This depth of functionality comes at a price point that many small to midsize businesses (SMB) may find prohibitive.
IFS Cloud ERP FAQ:
Q: Is IFS ERP deployed in the cloud or on-premise?

A: Both, historically IFS has been an on-premise solution but in recent years has retooled it's ERP to be deployed in the cloud in IFS data centers (public cloud), or in your own datacenters (private cloud) or can be deployed on-premise.
Q: What does IFS stand for?

A: IFS is short for "Industrial and Financial Systems"
Q: What is IFS ERP software used for?

A: IFS develops Enterprise Resource Planning (ERP) software to help businesses better manage their financial resources, their inventory, and their people and processes. IFS also offers world class Enterprise Asset Management (EAM) software and Services Resource Planning (SRP).
Q: What type of companies use IFS ERP Software?

A: IFS is used by a wide variety of businesses around the world. The solution enables complex businesses to successfully handle four key processes:

Service and Asset Management
Manufacturing
Projects
Supply Chain Management.

IFS has expertise in dealing with companies in specific markets: Aerospace and Defense, Asset Intensive, Automotive, Energy and Utilities, Engineering, Construction and Infrastructure, High Tech Manufacturing, Industrial Manufacturing, Oil and Gas, Process Manufacturing, Retail and Wholesale, and Service Providers. Their domain expertise in these segments sets them apart. See references http://www.ifsworld.com/corp/our-customers/
Q: How many employees does IFS have?

A: IFS boast over 4000 employees worldwide.
Q: How many customers does IFS have?

A: IFS claims to have over 10,000 customers worldwide in more than 30 countries.
Q: How much does IFS Cloud ERP software cost?

A: IFS does not publicly publish their list pricing information however a typical customer could expect to spend around $4,500 per user, which includes full ERP access, hosting and support. For more detailed pricing click below.
Q: Who are IFS' primary competitors:

A: IFS' primary competition consists of SAP ByD and SAP S/4, Oracle NetSuite and Oracle Cloud, Microsoft Dynamics 365 for Finance & Operations, Epicor and Infor CloudSuite, Acumatica and Sage X3.
Q: Can I get free trial access to IFS ERP software?

A: Astra Canyon Group can provide potential IFS customers a highly specialized demonstration but currently does not have the ability to offer prospects a IFS trial product.
---Back to Top of Page---
Is IFS Right for You?
Finding an ERP that pleases all stakeholders can be quite a challenge, but hopefully, this article has shed some light on why you should consider IFS Cloud ERP and who might be a good fit for IFS ERP.
IFS and Astra Canyon Group are pleased to educate potential customers about all the advantages of the IFS Cloud ERP and are proud to be laying the groundwork for the tremendous growth that IFS expects in North America in the coming years.
Astra Canyon Group is IFS's go-to partner for North American-based ERP initiatives. We're excited to bring these incredible solutions to businesses and would love to show you how IFS can help solve the challenges your business faces every day.
Let's talk. We can help you determine whether IFS is a good fit for your particular problems and goals, and how it meshes with your industry and your growth ambitions. Contact us today to schedule a discussion. Let's see how we can help you tackle your ERP initiative and find out if IFS is right for you.